Spoiler warning!
This article contains plot details for Season 3 and beyond.
The Akiba Guild Hall Raid Party was formed by the lower-level members of Log Horizon and Crescent Moon Alliance, plus Lelia Mofur and Litka Mofur, to combat the Genius Eirenus.[1] Shiroe entrusted Minori with the task of finding raid party members and taking down the Genius, as he was in no capacity to do so due to Eirenus' ability.
Overview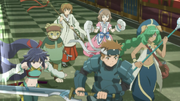 Because of Eirenus' ability, the levels of any player over level 65 was suppressed to level 35 ; however, those whose level was 65 or under, whether normally or because of the Teacher System, stayed unaffected. As a result, the entire raid party consists of players low-level Adventurers, except for Akatsuki, who temporarily reduced her level from 93 to 59 (based on Minori's level) via the Teacher System, and the Mofur sisters, who are Ancients set to be level 65 during the early days of Elder Tale.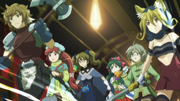 The raid party is the size of a Full Raid (24 members), so the members were split into four teams with six people each.
Members
All members, except Akatsuki, are considered novice players. Akatsuki (Akiba Raid, Shibuya Raid) and the members of Touya's Party (Shibuya Raid) were the only players who had ever participated in any sort of raid. However, most of them boast a strong team spirit and solidarity as friends or members of sister guilds ; aside from Akatsuki, Serara, Ashlynn, Rundelhaus and the Mofur sisters, they had all been hostages of the malicious guild Hamelin from immediately after the Catastrophe until the establishment of the Round Table.
Minori, the raid party leader, possesses raiding knowledge from her mentor Shiroe as well as extensive notes the veteran players (from Log Horizon, Silver Sword and D3-Hub) compiled in the Instance before dying.
*On his Log Horizon Database data entry and in the anime, Komomo is listed as a Cleric, but the Anime Settings Book and the mobile game made him a Swashbuckler.[1]
References