Enchanter Variations SNG
Enchanter is one of the twelve classes in Elder Tale and one of the three Magic Attack classes alongside Sorcerer and Summoner.
It has only one regional variant, the Korean server's Taoshi.
Overview
Among the twelve classes, the Enchanter has the highest MP stat. However, its offensive damage in terms of both specialized spells and melee is extremely low, making it inherently a support class. Its defensive stamina is also very low, making it an unsuitable class for solo play and the least popular class in Elder Tale. Some players say that the class is one that exists in concept but that they've never actually encountered an Enchanter in the game.[1][2] Finding a high-level Enchanter such as Shiroe is even more rare, so experienced Enchanters have at least heard the names of other Enchanters like themselves.
Enchanters are usually able to stay in combat for long periods of time because their spells consume MP at a slow rate, and they generally support other party members, rather than engaging directly in combat themselves.
Enchanters are an extremely versatile class that boasts a rich repertoire of spells at their full disposal. These range from buffs that raise the combat prowess of party members to spells that add status effects to enemies. Still, due to the Enchanter's extremely low offensive and defensive capabilities, it is nearly impossible for an Enchanter to finish a fight alone.
Enchanters' spells can make allies' attacks more accurate or boost their ability to dodge incoming attacks.[2]
Although Enchanters' spells generally do not do much damage, they can alter the behavior of enemies by confusing them or inhibiting their attacks.  Used strategically, this ability can alter the outcome of a battle.[2]
Enchanters and other classes like them are normally in the back of a party and can also operate as observers and strategists. Shiroe is well-renowned as the master strategist for the Debauchery Tea Party, and later on for the Round Table Alliance and Log Horizon. Since these types are normally not burdened with front-line duty, they are seen as the organizers and directors.
Sample Builds
A few builds that are commonly seen among Enchanters.
Enhancer
Enchanters of this build focus on supporting allies through buffs and enemy weakening.
Shiroe primarily uses this kind of build when he's not in a raid.
Crowd Controller
As the name suggests, this build revolves around controlling enemy groups with spells that disable enemies.
There are a few subcategories within this build type; Freezers use Astral Hypno as their primary spell to put enemies around them to sleep, as if they're "freezing" the battlefield. Nureha uses this build.
Mana Controller
Usually a build for Raid parties, those of this build focus on MP restoration and MP management, taking advantage of spells like Mana Channeling and Mana Transformer to ensure that those who need MP will have a handy supply available. This is a relatively tricky build to utilize as it requires the player to have a firm grasp on party members' behavior and MP usage.
Shiroe excels at using this build in raids, making him a valuable asset in a party; notably, Isaac wanted to recruit him after the Tea Party's disbandment for this reason.
Sprinkler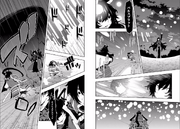 The Sprinkler build revolves around using Pulse Bullet and Cast On Beat to fire over 30 Pulse Bullets a minute, creating an offensive-type build. Even Elder Tale's developers were surprised by this build, but few people take this build seriously due to the specific equipment needed for this build to work.
Nureha is shown using the Sprinkler build's attack style briefly during her fight against Soujiro Seta in the Log Horizon: West Wind Brigade manga,[3] but she does not normally use this build.
Evil Eye
Also known as the Gazer Style, this build specializes in inflicting debuffs and then using Gazing Eye to amplify damage against debuffed enemies.
Known Skills
Enchanters are a full support class (with a handful of exceptions) that can manipulate MP, debuff enemies, and buff allies.
For general information about how skills work in Elder Tale, see the Skills page.
Ally Support
Attack Magic
Enemy Inhibition
MP Management
Self Reinforcement
Notes
The general skill categories (Ally Support, Attack Magic, etc.) are unofficial terms used for wiki purposes.
Most of the above effects are translated from atwiki's version if there is a discrepancy with the Log Horizon Database. The Log Horizon Database bases skill effect descriptions on what is used in the LHTRPG, which is sometimes drastically different from what Elder Tale would have as they are two completely different game styles (tabletop RPG vs. MMO).

In the LHTRPG, Infinity Force reduces Hostility gained by using powerful skills to 0.

On Japanese sites, "Mana Transformer" is literally written "Mana Trans" (マナトランス); the word "Trans" (トランス) in this context refers to a power transformer.
Previously, Mage Feedback was unofficially translated as Mage Howling, which is the literal reading of its katakana. That said, "Howling" (ハウリング) is the Japanese term for audio feedback, but has a completely different connotation in English. To stay true to the name's intent, it has been changed to Feedback on the wiki.
Some skills on atwiki have no descriptions and have dubious origin (not mentioned in the light novels or TRPG). They have not been included until they can be verified. Skills that fall under this category:

Soul Weapon (ソウルウェポン)
Vigor Enhancement (ヴィガーエンハンス)
Average HP and MP Chart
The calculations for this table are based on level and the average gear for that level. However, this table does not account for racial and sometimes subclass abilities.[41]
For a more accurate representation of a character's values based on the quality of their equipment, the following multipliers are a good rule of thumb:
Solo player without good equipment: 96% of their level average
Average adventurer in an ordinary guild: 100%
Adventurer in a wealthy and decently-skilled guild: 106%
Adventurer in a raiding guild: 116%
Adventurer in a top guild: 125%
Approximate values for Very Low HP, Very High MP [42]
Level
HP
MP
Level
HP
MP
Level
HP
MP
1
110
200
40
2547
4616
80
5619
10,186
5
335
606
45
2899
5255
85
6044
10,957
10
623
1129
50
3260
5909
90
6478
11,743
15
921
1669
55
3630
6581
95
6921
12,546
20
1339
2008
60
4372
6559
100
7374
13,367
25
1544
2798
65
4399
7973
105
7834
14,202
30
1869
3388
70
4796
8694
110
8305
15,054
35
2203
3994
75
5203
9432
115
8785
15,924
Note: The above values have been approximated from Mamare's original chart, which grouped Summoners and Enchanters with Sorcerers, who have low HP and high MP.
Known Enchanters
Classes



Warrior Classes




Weapon Attack Classes




Healer Classes




Mage Classes
References
↑

Log Horizon Light Novel: Volume 1, Chapter 1

↑ 2.0 2.1 2.2 2.3 2.4 2.5 2.6 2.7 atwiki Log Horizon, Enchanter https://w.atwiki.jp/loghorizon/pages/68.html
↑ Log Horizon: West Wind Brigade chapter 42
↑ Log Horizon Database, Accuracy Support https://lhrpg.com/lhz/i?id=835
↑ 5.0 5.1 Log Horizon light novel: Volume 1, Chapter 3, Part 2
↑ Log Horizon Database, Elixir https://lhrpg.com/lhz/i?id=836
↑ Log Horizon light novel: Volume 10, Chapter 4, Part 6
↑ Log Horizon Database, Flip Gate https://lhrpg.com/lhz/i?id=780
↑ 9.0 9.1 Log Horizon light novel: Volume 7, Chapter 5, Part 4
↑ Log Horizon Database, Force Step https://lhrpg.com/lhz/i?id=846
↑ Log Horizon Database, Gain Immunity https://lhrpg.com/lhz/i?id=911
↑ Log Horizon Database, Haste https://lhrpg.com/lhz/i?id=838
↑ Log Horizon Database, Infinity Force https://lhrpg.com/lhz/i?id=833
↑ Log Horizon Database, Keen Edge https://lhrpg.com/lhz/i?id=834
↑ Log Horizon Database, Keen Edge II https://lhrpg.com/lhz/i?id=3378
↑ Log Horizon Database, Overrunner https://lhrpg.com/lhz/i?id=916
↑ Log Horizon Database, Security Wall https://lhrpg.com/lhz/i?id=3386
↑ Log Horizon Database, Spinning Fate https://lhrpg.com/lhz/i?id=854
↑ Log Horizon Database, True Guide https://lhrpg.com/lhz/i?id=848
↑ Log Horizon Database, Undo https://lhrpg.com/lhz/i?id=913
↑ 21.0 21.1 21.2 Log Horizon light novel: Volume 1, Chapter 3, Part 3
↑ Log Horizon light novel: Volume 7, Chapter 2, Part 5
↑ Log Horizon Database, Astral Hypno https://lhrpg.com/lhz/i?id=842
↑ Log Horizon Database, Brain Vise https://lhrpg.com/lhz/i?id=912
↑ Log Horizon Database, Electrical Fuzz https://lhrpg.com/lhz/i?id=843
↑ Log Horizon Database, Mind Bolt https://lhrpg.com/lhz/i?id=839
↑ Log Horizon Database, Mind Shock https://lhrpg.com/lhz/i?id=841
↑ Log Horizon Database, Nightmare Sphere https://lhrpg.com/lhz/i?id=840
↑ Log Horizon Database, Pulse Bullet https://lhrpg.com/lhz/i?id=847
↑ Log Horizon Database, Thorn Bind Hostage https://lhrpg.com/lhz/i?id=844
↑ Log Horizon Database, Blackout https://lhrpg.com/lhz/i?id=914
↑ Log Horizon Database, Mana Leak https://lhrpg.com/lhz/i?id=853
↑ Log Horizon Database, Mesmerize https://lhrpg.com/lhz/i?id=3385
↑ Log Horizon Database, Mana Channeling https://lhrpg.com/lhz/i?id=852
↑ Log Horizon Database, Cast On Beat https://lhrpg.com/lhz/i?id=845
↑ Log Horizon Database, Dancing Staff https://lhrpg.com/lhz/i?id=855
↑ Log Horizon Database, Mage Feedback https://lhrpg.com/lhz/i?id=769
↑ Log Horizon Database, Prismize https://lhrpg.com/lhz/i?id=849
↑ Log Horizon Database, Psycho Tuner https://lhrpg.com/lhz/i?id=3384
↑ Log Horizon HP/MP Chart, https://docs.google.com/spreadsheets/d/1cURlgfASO6ZH34vgid58zcuO1dqLghJ_RAExMPMAjug/edit?usp=sharing
↑ Log Horizon HP/MP Chart (Revised) https://docs.google.com/spreadsheets/d/1cURlgfASO6ZH34vgid58zcuO1dqLghJ_RAExMPMAjug/edit?usp=sharing