Enkaatanto is a Felinoid Bard-Alchemist and a member of Silver Sword. He was a member of the first party of the Abyssal Shaft Raid Party.
Appearance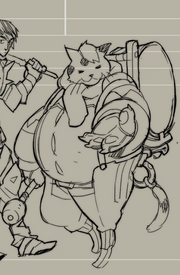 Enkaatanto is a rather large Felinoid with constantly-squinted eyes and large paws. His round figure makes him very popular with children.
Personality
In spite of his appearance, Enkaatanto is one of the most grounded and realistic members in Silver Sword.
Synopsis
Gold of the Kunie arc
Equipment
Enkaatanto carries a drum and a drum stick.
Trivia
References
Community content is available under
CC-BY-SA
unless otherwise noted.