Log Horizon 9: Go East, Kanami! (Kanami, Go! East! in the Japanese version) is the ninth volume of the Log Horizon light novel series, and the first of a side-plot focused on Kanami's Party in the Chinese server. It is continued in volume 11.
Originally written as the side story web novel Dragonhowl Mountains, it was posted on author Mamare Touno's now-defunct personal site mamare.net rather than on Syosetu like the main series. After he decided to incorporate it into the main series, he posted a revised version titled Kanami, Go! East! on Syosetu, which is closer to the finalized light novel version.
The volume was briefly adapted in the 14th episode of the Log Horizon 2 anime. A two-volume manga adaption was also published. Both the anime and the manga are based on Dragonhowl Mountains rather than the light novel version.
Official Synopsis
When the Catastrophe hit, American Elder Tales player Leonardo was one of the many people trapped. Stuck on the Chinese server with none of his friends and surrounded by thousands of monsters, his situation is hopeless... until a headstrong girl comes to his rescue! Kanami, the former Debauchery Tea Party leader, recruits him for her party. Along with the hero Elias, the blank-faced healer Coppélia, and a strange white horse that can talk, the group resolves to travel to the Japanese server, the only place where the new expansion pack unlocked before the Catastrophe struck. The long trek eastward begins!
Chapters
Travelling Companion (profile: Leonardo)
Village of Thekkek (profile: Kanami)
Dragon in Heaven's Fang (profile: Elias Hackblade)
Dog Fight (profile: Coppelia)
Synopsis
Characters
Kanami's Party
Genius
Other
Extra Content
Debauchery Tea Party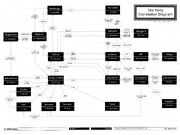 The Appendix to volume 9 gave information for the Debauchery Tea Party members, including those who were not online during the Catastrophe; they had previously been revealed in a fan book, but were never officially published.
Along with the basic information of the members, there was also a relationship chart given. However, the relationship chart did not include every member in it due to the lack of space.
Overseas Classes: Part 1
Mamare Touno and Ishihara Shinji (the anime director) created designs and class icons for the overseas servers' regional classes. In this volume, they covered the North American, Central/South American, Korean, and Chinese servers. At the end of the description, it stated that they would continue with the second installment, which was released in volume 11.
Trivia
Community content is available under
CC-BY-SA
unless otherwise noted.